Home
Studios and one-room apartments (1–4 persons)
One-bedroom apartments (1–5 persons)
Two-bedroom apartments (2–7 persons)
Interesting and useful places near the metro stations.
Phone: +38 (067) 708-3638
E-mail: agapekiev@mail.ru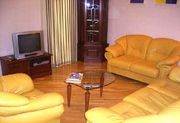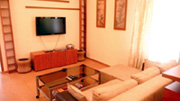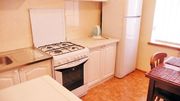 9 Kostelna apartment
Description
Category: One-bedroom
4th floor
Subway station in 5 minutes.





55 Euros per.night
2 rooms, 72 sq.meters 4th floor
LOCATION
This apartment is located on 9 Kostelna street - it is a short street originating from Maidan and leads to Volodymyrska Hill Park - city park, one of the main landmarks of Kyiv and favorite walking and meeting place for inhabitants and guests.
Maidan Square is visible from the apartment's balcony. This area is the best for tourists in Kiev with plenty of restaurants and bars. Embassy of Canada is located nearby as well. Nearest Metro stations - Maidan and Khreshchatyk are located just in 2-3 minutes walking.
There is a supermarkets and shopping area under the Maidan, called "Globus center".
ABOUT APARTMENT
Apartment is located on the 4th floor of beautiful historical building with elevators. Entrance from the street-side with secure door. The total space is above 70 square meters, ceilings are about 4 meters in height. The building has thick brick walls so it keeps constant temperature on winter or during the summer.
Kostelna apartment has one living-room and one bedroom, separate kitchen and one bathroom. Also it has a big balcony. Its windows are overlooking Kostelna street and Maidan.
We conducted the rehab in traditional style, restored wooden floors, and equipped this apartment with comfortable furniture and domestic technique. Apartment's floors are made of dark oak parquet and ceramic tiles on kitchen and bathroom. Another noticeable thing on this flat is original molding on the ceiling preserved during more than a century . The living-room has two sofas which can be transformed into beds, and bedroom with one king-size double-bed. In general there is enough sleeping places for 6 people. Each room has own air conditioning, there is wide-screen LED TV set on living-room and all necessary equipment in kitchen for comfortable accommodation. Also apartment has a washer.
Fully furnished kitchen allows cooking and serving meals. Amenities include fridge, microwave, gas stove, big dining table and all necessary glassware.
Bathroom has iron bathtub. Also independent water heater is installed in this flat.
Apartment is not noisy despite of its location on busy street and would be comfortable accommodation either for short rentals or prolonged stays.
This apartment is equipped with:
Air conditioning in every room
Bathtub in bathroom
Gas stove, fridge and microwave oven on the kitchen
All kitchen appliances for cooking and serving meals
King-size double-bed in bedroom, two transforming sofas in living-room
Car parking is possible near the building
LED TVset
High speed internet with Wi-Fi, multilanguage cable TV (over 200 channels)
Gallery