Home
Studios and one-room apartments (1–4 persons)
One-bedroom apartments (1–5 persons)
Two-bedroom apartments (2–7 persons)
Interesting and useful places near the metro stations.
Phone: +38 (067) 708-3638
E-mail: agapekiev@mail.ru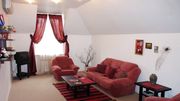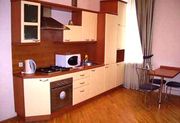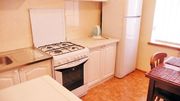 10 Mala Zhytomyrska str
Description
Category: One-bedroom
1st floor
Subway station in 5 minutes.





€ 40 per night
ABOUT APARTMENT.
Apartment is located on the sixth floor in nine-storey building of recent construction with lift. Despite being in the very center of Kiev, this place is calm and tranquil, surrounded by green trees and vegetations. Street entrance is protected by security lock.
This flat has roomy neat seating area in the living room with stylish furniture and big soft carpet decorated in "Dalmatian" style, spacious bedroom with king-size double-bed, nice ready-to-cook kitchen designed for comfort and functionality, modern bathroom with shower. This accommodation also comes with air conditioner and water heater installed. Need to mention there is no washing machine in apartment but we offer laundry service free of charge and round-the-clock for all guests living here. Apartment's hallway is supplied with spacious built-in wardrobe.
Big balcony facing Malaya Zhytomyrskaya street and Maydan Nezalezhnosti at your disposal as well.
TV is connected to the city cable system and includes more than a hundred of TV channels in different languages. Free and unlimited High Speed Internet access either via WiFi or by plugging your computer directly into the Ethernet port.
All mentioned features are making this apartment an excellent alternative to a hotel for your short break in Kiev.
This apartment is equipped with:
Air conditioning
Independent electric water heater for bathroom and kitchen
Gas stove, fridge and microwave oven
All kitchen appliances for meals cooking, cuttery, cookware, dishes, glassware, etc.
Bathroom with shower and hair fan
King-size double-bed in bedroom, folding sofa and armchairs in living-room
Car parking is possible near the building
High speed internet with Wi-Fi, cable TV
LOCATION
This apartment is located on one of those narrow historical radial streets connecting urban central square of Kiev (Majdan) with ancient Mykhailivska and Sofiivska squares famous to St.Sophia and St.Mikhael churches built a thousand years ago.
It is about 50 meters walking to Majdan Nezalezhnosti with Metro station entrance of the same name. This location is preferable for tourists and all people coming to Kiev for any purpose so far as it has easy access to main street of Kiev Kreshchatyk with shopping and entertainmet area, lies close to major city sights and historic area and within a couple of minutes from amazing park Volodymyrska Hirka, beloved by kyivites. Inspite of such central location you will be hidden from the usual city noise.
Also you will find a lot of small restaurants and pubs nearby. One of the best and recommended Kiev pubs - Irish O'Briens is situated in the same block. Also you can experience russian bania - traditional slavic steam baths wich are very popular in Ukraine, one of them is located just in front of your building.
Gallery