One-bedroom apartments (1–5 persons)
Two-bedroom apartments (2–7 persons)
Interesting and useful places near the metro stations.
Phone: +38 (067) 708-3638
E-mail: agapekiev@mail.ru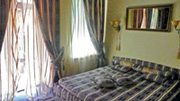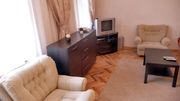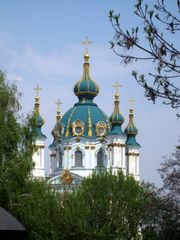 Two-bedroom apartments (2–7 persons)
We have several types of apartments from small tiny studios up to spacious elegant three- bedroom apartments in some of the Kiev's finest locations. Please contact us about possible discounts.
Studios and one-room apartments (1-4 persons)
One-bedroom apartments (1-5 persons)
Two-bedroom apartments (2-7 persons) are shown on this page below
All apartments can be booked via internet or by telephone. This service is available 24 hours per day. Please, make your reservation in advance.
€ 90 per night
€ 86 for 3+ nights
€ 83 for 7+ nights

4th floor

Subway station in 2 minutes.

€ 90 per night
€ 86 for 3+ nights
€ 83 for 7+ nights

ABOUT APARTMENT
This bright airy apartment is located on the 4th storey of brick historical building without elevator, protected with coded lock on street door and parking places downstairs. The building is encircled with green vegetations of old garden. Apartment itself consists of two separate equal bedrooms equipped with double beds and spacious living room combined with kitchen and dining area. There is also installed comfortable transforming sofa with arm chairs and coffee table. Kitchen is fully equipped with all cooking facilities,fridge, microwave oven and gas stove.
Also this apartment comes with air conditioning and independent water heating system. Huge wardrobes, chest of drawers complement apartment's furniture. To be added, it is very quiet inside because all windows are facing courtyard.
Apartment offers our guests warm, homely atmosphere and tranquility amidst all hustle and bustle of Kiev business center. Perfect choice for any visitor of Kiev, couples, families. Perfectly serves the purpose of short term rental as well as for long term accommodation, generously spaced and moderately priced and situated within just a few minutes' journey from major Kiev attractions.
This apartment is equipped with:

Air conditioner in flat
Long bath with shower
Washing machine
All kitchen amenities, fridge, gas stove and microwave oven.
Double beds in bedrooms, transforming sofa-bed in living-room
Car parking is possible near the building
Cable and SAT TV on many European languages
Broadband internet with Wi-Fi
LOCATION
It is hard to find the better location in Kiev for temporary accommodation. Great place in the very center with easy access to all key tourists attractions such as Golden Gates Museum, Yaroslaviv Val street, Shevchenko park and old city botanic garden. Kreshchatyk is situated under 5 minutes walk away. There are several fashionable restaurants on hand, cafes and eateries, night clubs. Famous Kiev boxers, world champions brothers Klichko live in the building on the opposite side of the street.
Neighboring bloks are saturated with foreign embassies, for example representative office of Germay is located nearby as well as Italian, Check Republic and many others.
So far our recap: Lysenko street is perfect place for living in Kiev both elite and convenient especially for foreign tourists. The nearest tube stations to this location are "Zoloti Vorota", "Teatralna" and "Universitet".
€ 130 per night
€ 120 for 3+ nights
€ 115 for 7+ nights

1st floor

No subway nearby, use land transport.

Two-bedrooms apartment near Independence Square
LOCATION
ABOUT APARTMENT
This spacious two-bedrooms apartment is located on the second floor of nineteenth century building with high ceilings (4.2 meters). Ground floor houses the hairdressing salon and the small flower shop.
Entire apartment consists of two bedrooms, living-room and kitchen. Main bedroom is supplied with king-size double-bed, another with transforming sofa and work cabinet's furniture. The living room has huge corner couch and big LCD TVset. Air conditioners are installed in each room. Bathroom is bright and nicely decorated with spanish tile and comes with triangular bathtub and shower.
Powerful and spacy kitchen alows cooking meals and is supplied with fridge, microwave oven, gas stove, dish-washer and washing machine.
Free and unlimited broadband internet with Wi-Fi acess point at your disposal as well. Cable television with numerous English, French, German and Italian channels.

This apartment is equipped with:

Air conditioning in each room
Water heater
Washing machine, dish washer
All kitchen tools and techniques, including gas stove and microwave oven.
Big double-bed in bedroom, transforming sofa-bed in living-room
Car parking is possible near the building
Broadband internet with Wi-Fi

This apartment is located in historical building of tsar's epoch in Kyiv's downtown, just a few steps away from the central street Kreshchatyk and Square of Independence, backwards from the Hyatt Regency Hotel.
This district is considered to be the most desirable residential area for tourists and foreigners. All sightseeings are nearby: Sofiivska church, Mykhailivska church, Andriivskyi Uzviz (descent), Volodymyrska hill park. Metro stations are adjascent as well (Maydan Nezalezhnosti, Zoloti Vorota"). You will find a lot of open-air restaurants around, one of them is the oldest in Kiev, renown Irish pub O'Brience.
Also being said our office is located next door in the same building and our managers are bend over backwards to help you regarding any question in Kiev.