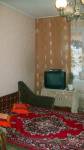 € 15 per night
8th floor, elevator
Subway station in 9 minutes.
address: Prirechnaya 1a
Host: Anastasia, Irina, Pavel
B&B Homestay Kiev Ukraine 10euros per.night from 1 person.(internet and breakfast included)
Do you want to know more about the local people, culture, and life?
Come alone or with your family, stay only one day, or one week, stay for your working visit or holidays - we are always happy to our guests! We would be happy to host people from anywhere in the world is welcome!!
In our apartment you will find everything you need for your short or long stay in Kiev. You will have your separate room, internet, bathroom, bed sheets and towels, breakfast each morning included in the price. Room is warmly with big beds and other Furniture. There are the desk and chair in your room. English-speaking hosts.
Our house is located in a comfortable area in Kiev (Obolon area), 10 minutes from the subway "Minska". It takes only 15 minutes to go to the central street of Kiev (Khreshchatyk) by metro. The Dnieper River is 3 min. away from home. The shops, supermarkets, banks, cafes, restaurants, entertainment venues, a wa The district Obolonskiy has seen new, comfortable apartment buildings constructed closer to the Dnipro river and has become an attractive residential area. Obolon is a unique part of Kiev, being situated next to a lake with waterfront shops and restaurants. You can take advantage of a romantic walk along the waterfront or hire a pedalo for some fun on the lake. This Kiev apartment is near the Metro, a fitness centre, a supermarket, tennis courts .ter park, a sports center is near.
From the airport need take the bus and then sit down at any metro station for example "Harkovska",
and drive to the "Minska" metro station. Then 10-minute walk from the subway to house or you can take a minibus № 24 or 224 or trolleybus № 24 and go to - "Prirechnaya" station or walk.
You can order transfer service from the airport. You will be greeted by English-speaking driver with a comfortable car.
Or we can meet you near Makdonald near metro Minska.
Address:
Prirecnhaiya street 1A
Terms and conditions of stay in the apartment:
1) Accommodation in a private room.
2) A hot shower at any time.
3) Breakfast at the time convenient for you. Wishes on the menu are taken into account.
4) Free access to the internet.
5) Access to the apartment at a convenient time for you.
Menu
Ukrainian borsch
Green borsch
Rice soup buckwheat barley
Cutlets with a garnish
Chicken chops with a garnish and salad
Dumplings with potatoes
Russian dumplings
Uzbek pilau meat
Meat croquettes with salad
Cheesecakes with sour cream
Pancakes with sour cream
Coffee tea fruit compote
Mixed salads
Pancakes with meat cheese
Chicken with side dish (pasta, potatoes, buckwheat)
Pickled cucumbers, pickled tomatoes
Cottage cheese with sour cream
Dumplings
Меню
Борщ украинский
Борщ зеленый
Суп рисовый гречневый перловый
Котлеты с гарниром
Куриные отбивные с гарниром и салатом
Вареники с картошкой
Пельмени русские
Плов узбекский мясной
Тефтели мясные с салатом
Сырники со сметаной
Оладьи со сметаной
Кофе чай компот фруктовый
Салаты из свежих овощей
Блины с мясом творогом
Курица с гарниром (макароны, картошка, гречка)
Огурцы соленые, помидоры соленные
Творог со сметаной
Вареники