Home
Studios and one-room apartments (1–4 persons)
One-bedroom apartments (1–5 persons)
Two-bedroom apartments (2–7 persons)
Interesting and useful places near the metro stations.
Phone: +38 (067) 708-3638
E-mail: agapekiev@mail.ru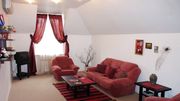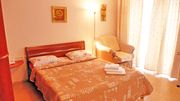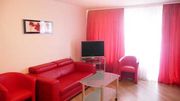 4b Chapajeva str studio apartment
Description
Category: One-room apartment
2nd floor
Subway station in 5 minutes.





€ 35 per night
€ 30 for 3+ nights
€ 30 for 7+ nights
location: very center, near "Genshtab" restaurant and Slovakian embassy
48 sq.meters, 2nd floor
Cable and Sat TV
Air conditioner
Full kitchen, Washing machine
King-size double bed, huge sofa
bathroom with shower and longbath
High-speed free of charge and unlimited Internet, Wi-Fi
This newly refurbished apartment is spacy, airy, with high ceilings (3.2 meters), huge windows and modern equipment. No street noise since apartment is located in courtyard which is embassies courtyard as well. Free of charge unlimited Internet acess.
video: * www.youtube.com/watch?v=a4Lmcnh0ooc&feature=youtu.be
Gallery