Home
Studios and one-room apartments (1–4 persons)
One-bedroom apartments (1–5 persons)
Two-bedroom apartments (2–7 persons)
Interesting and useful places near the metro stations.
Phone: +38 (067) 708-3638
E-mail: agapekiev@mail.ru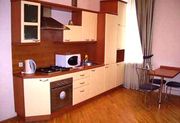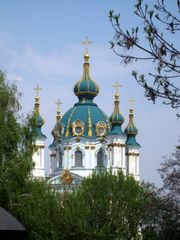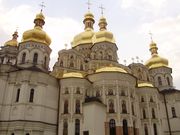 4 Sofievska street apartmentUp to 2+2 people
Description
Category: One-bedroom
1st floor
Subway station in 5 minutes.





40 €
ABOUT APARTMENT
This apartment is located on third floor of historical building with elevator, secure street-door and facade entrance. It has big french windows, tight curtains (jalousie) and a balcony, overlooking Sofievska street. It comes with two rooms: one bedroom with double-bed and living-room equipped with sofa and other furniture. Kitchen area is connected with living-room and has all necessary for cooking meals - gas stove, fridge, microwave oven and enable guests to choose to dine in or opt to enjoy an evening in the numerous restaurants downstairs. Floors are made of wooden parquet. Rooms have air conditioning and soft carpets. This apartment is comfortable, convenient serviced accommodation at an affordable price, 50% lower than in neighboring hotels.
Also here is a broadband internet with WiFi router, LCD TVset with more than 100 international channels and CD music center.
In general, this light, modern and spacious apartment offers a pleasant and inviting atmosphere where guests can relax at the heart of the Kiev downtown. Well equipped, well located and affordable, this apartment in Kiev is an ideal choice for your stay.
This apartment is equipped with:
Air conditioning
Balcony with view to Maydan
Independent water heater for bathroom
Gas stove, fridge, microwave oven in kitchen
All kitchen utensils
Bathroom with shower and tub
King-size double-bed in bedroom, transforming sofa in living-room
Car parking is possible near the building.
High speed internet with Wi-Fi, LCD TV set
Sofievska street starts on Maydan (Independence square) and leads towards Sofievska square - historical place of Kiev with ancient Sofievska church built on 11th century. This place is both close to Metro "Independence Square" and "Zoloti Vorota".
LOCATION
Set just steps from the central street Khreshchatyk and a short walk from Andriivsky descent or Volodymyrska Hirka park, this centrally located apartment is an excellent base from which to explore Kiev, with cafes, shops and supermarkets right on your doorsteps.
Perfect place for single travellers or couples, for short term stays and prolonged accommodation.
Gallery